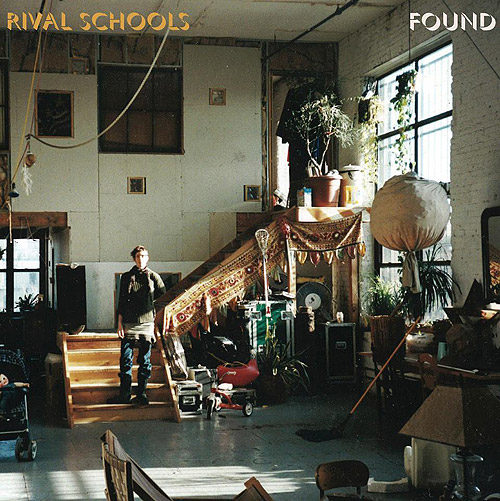 In 2011, 10 years after debuting with the excellent United By Fate, post-hardcore outfit Rival Schools returned from a hiatus to release Pedals, a solid effort that seemed to comfortably pick up where the Walter Schreifels-fronted band left off a decade prior.
But somewhere in between there was a "lost" album – that most mythical concept. Rival Schools have their own version, and what once was lost now is Found (sorry). On April 9, the band will release Found, a remastered collection of those lost tracks originally meant to serve as the second album.
Below is a stream of one of the songs, "Indisposable Heroes" and a Q&A with Schreifels (unedited by me) that the group's marketing firm included with the email blast about the album. It offers all the details you'd want about the unearthing of Found.
What led up to the Found line up and sessions?
As our touring for United By Fate was winding down Ian Love (our guitar player) decided to leave the band to pursue a new project so before we started work on a follow up to United By Fate we reached out to Chris Traynor whom we all knew from Orange 9mm. Chris is a guitar maven and a fun guy to hang out with and conveniently has a rehearsal room set up in the back of his apartment. The photo on the cover of Found was taken at Chris's house, the girl in the photo is his girlfriend Sybil.
What was it like working on the Found material?
It's a good group of people so we were having fun and the music came pretty quick and easy. There was definitely a different energy with Chris in the band but we were open to it. From my perspective it was nice to create new patterns, we were driving forward without questioning the material as much as we might have in the past.
Where was the creative inspiration coming from?
On a musical level the inspiration was very much whatever felt good in the room that day, if it felt good for a week or so it basically had made the cut. All the material for Found was written, developed and recorded within a few months whereas United By Fate took years. When it came time for lyrics I took a similar approach, allowing it to
happen and trying not to judge it too severely. As far as I was concerned we were recording demos for a second album, figuring I'd have the opportunity to really dial it in at some future point, I didn't sweat the small stuff which was nice.
How did the Found material get lost?
I think it was a combination of factors. For starters we might have been smart to take a little break between the years of touring for United By Fate, replacing Ian to writing for a new record, there was a level of burn out, for me anyways. It didn't help that in classic major label form, Island/Def Jam "wasn't hearing the single" and wanted us to continue demoing or drop the band. While we still had the UK label behind us, where we were more popular anyways, the wind had really left my sails by this time and I wanted out. The silver lining in it all was that Island gave us the rights to the demos we had made for them, these are the recordings that make up Found.
How did Found get found?
Although I didn't see it at the time another bit of good fortune was that some mischief maker at Island leaked our demos onto the interweb where they became known as the "lost Rival Schools album" which is why we decided to call it Found. While I was initially bummed, overtime I came to appreciate that the fans who managed to get a hold of Found really seemed to hold it dear. This helped me to reassess the whole deal. I was able to see Found for the wonderful little musical snapshot that it is. Found isn't nearly as polished or developed as United By Fate or Pedals, it's a diamond in the rough, a feel good story. "Found was lost but now is found."