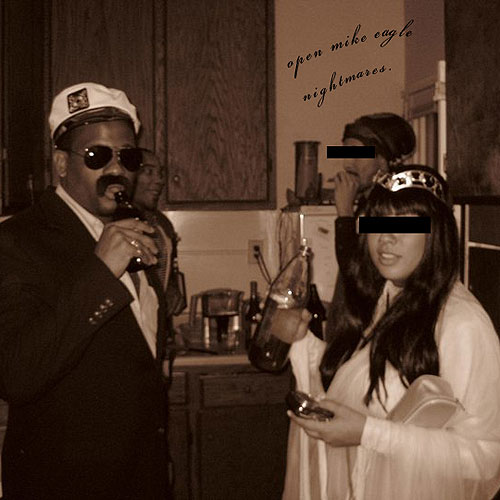 It's difficult to balance my eagerness to post a new Open Mike Eagle song and the feeling that I need to hold off to offer a more informed opinion. I mean, it did take me about 15 listens of his first album, Unapologetic Art Rap, before I picked up on the Aaron Burr name-check in the song Rap Protection Prayer ("Hope I never have to keep me a derringer / 'Cause I would challenge everybody like I'm Aaron Burr").
And in Nightmares, the first single off his wryly titled forthcoming album Rappers Will Die of Natural Causes (due out June 7 on Hellfyre Club), OME appears to put the scatterbrained generation on blast: "You say the things that you overheard / I see the things that you don't observe." When the Internet is pulling everyone in different directions all at the same time, Open Mike Eagle seems to subtly rise above it. You just have to stop and hear what he has to say.
Nightmares was produced by Willie Green and a video, which hopefully involves something pertaining to that photo, will premiere Friday at HipHopDX.
Open Mike Eagle-Nightmares by Hellfyre Club
RELATED:
Awkward: Advice (feat. Open Mike Eagle)
Nocando, Curly Castro, Spit Suicide freestyle at Hidden House
Open Mike Eagle: Haircut (video)
Open Mike Eagle: I Rock (video)