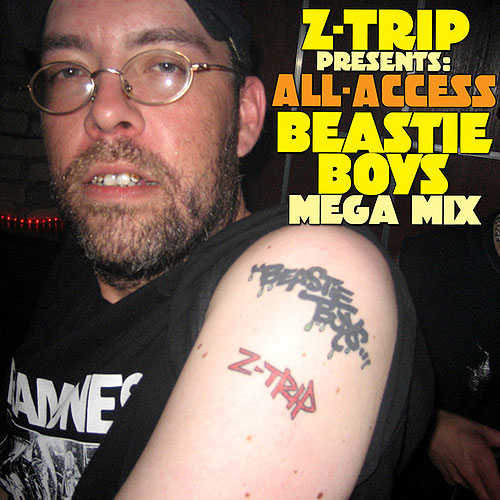 If you grew up on the Beastie Boys – I was just 9 years old when Licensed to Ill came out in 1986 – it's crazy to think that they're in their mid-40s (closer to 50 in MCA's case). Crazier to think that a new generation of kids might not have a clue about the group's heyday; their first three albums are older than most current high schoolers. After posting Chris Testa's great ode to Check Your Head, I got to thinking about the Beasties' place in music but especially about their place in my history.
From Licensed to Ill in '86 to today's release of Hot Sauce Committee Part Two, no group has been as consistent and relevant. While the Beasties were around long before, I came to them (as most everybody did) when Licensed to Ill was released, which means they have soundtracked 75 percent of my living years.
So how do you encapsulate such a prolific career in a 23-minute mix? It seems an unenviable task, but DJ Z-Trip took it head on for his All-Access Mega Mix, which is being offered as a free download. Z-Trip mines the catalog to remix classics and new material: "I was stoked and humbled when asked to do this mix. I've been a fan of The Beasties since I first heard Mr Magic interview them on WBLS in NY. I included some of my favorites as well as stuff off the new album."
I wouldn't be surprised if Z-Trip's legion of loyal followers posted a tracklist in the coming days on his forum, but I can tell you right now that Helmet never sounded so hip-hop.
RELATED:
And What You Give Is What You Get (Paul's Boutique B-side)
DJ Z-Trip on Last Call with Carson Daly
Chic: Le Freak (Z-Trip Golden Remix)
Z-Trip remixes the Dead Weather: Treat Me Like Your Mother
DJ Z-Trip on KCRW's Morning Becomes Eclectic