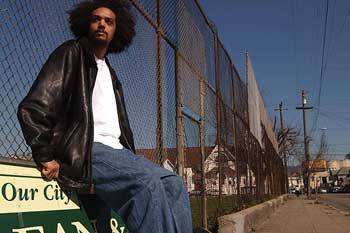 Next to Del (recently discussed), Opio of Souls of Mischief ranks right up there as my favorite member of Hieroglyphics. His delivery always feels loose but intense, and his ability to clearly enunciate without rushing – he got into a habit of really stressing the last syllable on words that ended in "er" – is an art in itself. And his verses in the classic '93 Til Infinity are hard to top ("Here's a 40, swig it / you know it's frigid / I got 'em chillin' in the cooler / break out the ruler").
After releasing Triangulation Station, his solo debut, in 2005, Opio returns with Vulture's Wisdom, due out April 8. From what I can tell, the album was produced by Architect, a member of Homeliss Derilex, a group that boasts a history with early Stones Throw material.
Here's the video for Stop the Press, the new single from Vulture's Wisdom, which will be packaged as a CD/DVD and include videos of almost every song.
And here's a video for Don Julio, in which Opio namechecks Soundgarden: