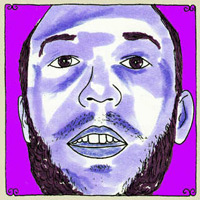 It's sort of impossible to quibble about anything the good folks at Daytrotter are doing – daily downloadable sessions from great bands, insightful writing and a free iPhone app with access to the site's entire archive.
But if I had to nitpick, there's just one thing I'd love to see more of at the site: sessions that feature more hip-hop and experimental beat-making artists. Daytrotter's expansive history includes visits by Aesop Rock, Cadence Weapon and P.O.S., so a precedent has already been set.
And in a nice surprise on Monday, RJD2 added his name to the Daytrotter alum. A 13-minute mix by the Columbus, Ohio-bred sound collagist was recorded in October during Moogfest in Asheville, N.C., and made available as a free download. The best part? No singing! So head on over to Daytrotter to grab it.
In other (two-week-old) news, RJD2 released a free three-song EP for The Glow, a track off his latest album The Colossus. It features remixes from Flosstradamus, Candy Panther and Paolo Palazzo, whose reworking was selected by fans as the winner of a remix contest. The download also includes the video.