OK. I'm sold. I like Sufjan. I really, really like him.
Monday night's Sufjan Stevens show at Marquee Theatre in Tempe wasn't just a concert; it was a spectacle. The whole Illinoisemakers shtick wasn't a put-on: Sufjan and Co. come dressed in full Illinois cheerleading regalia. If there are concept albums, this is a concept concert. Sufjan himself likened it to a pep rally.
The opener was an ode to the 50 states, a roll call of sorts. The chorus: "The 50 states / pack your bags/ it's never too late." A few songs were preceded by well-rehearsed cheers, pom-poms and all.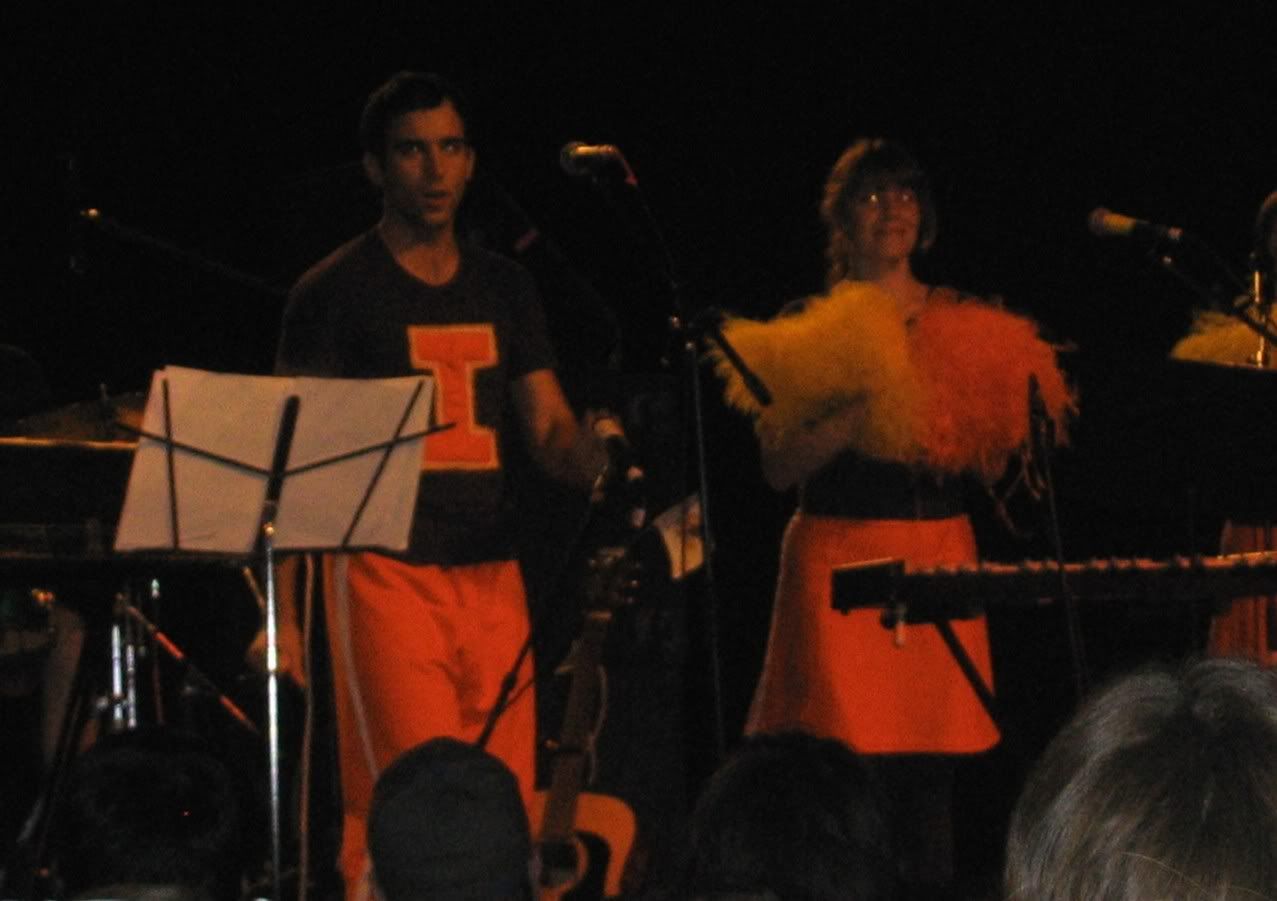 "Gimme an 'I'!"
There was, of course, music. The arrangements were really quite wonderful. An array of instruments — trumpet, trombone, xylophone, banjo — fleshed out the presentation. I was most impressed by how his voice — ever precious on record — held up in a pretty large theater. He hit those high notes (think the "oh my god" refrain on John Wayne Gacy Jr.) with nary a problem. His backup singers bolstered the cause. Liz Janes, who opened, was a part of the group.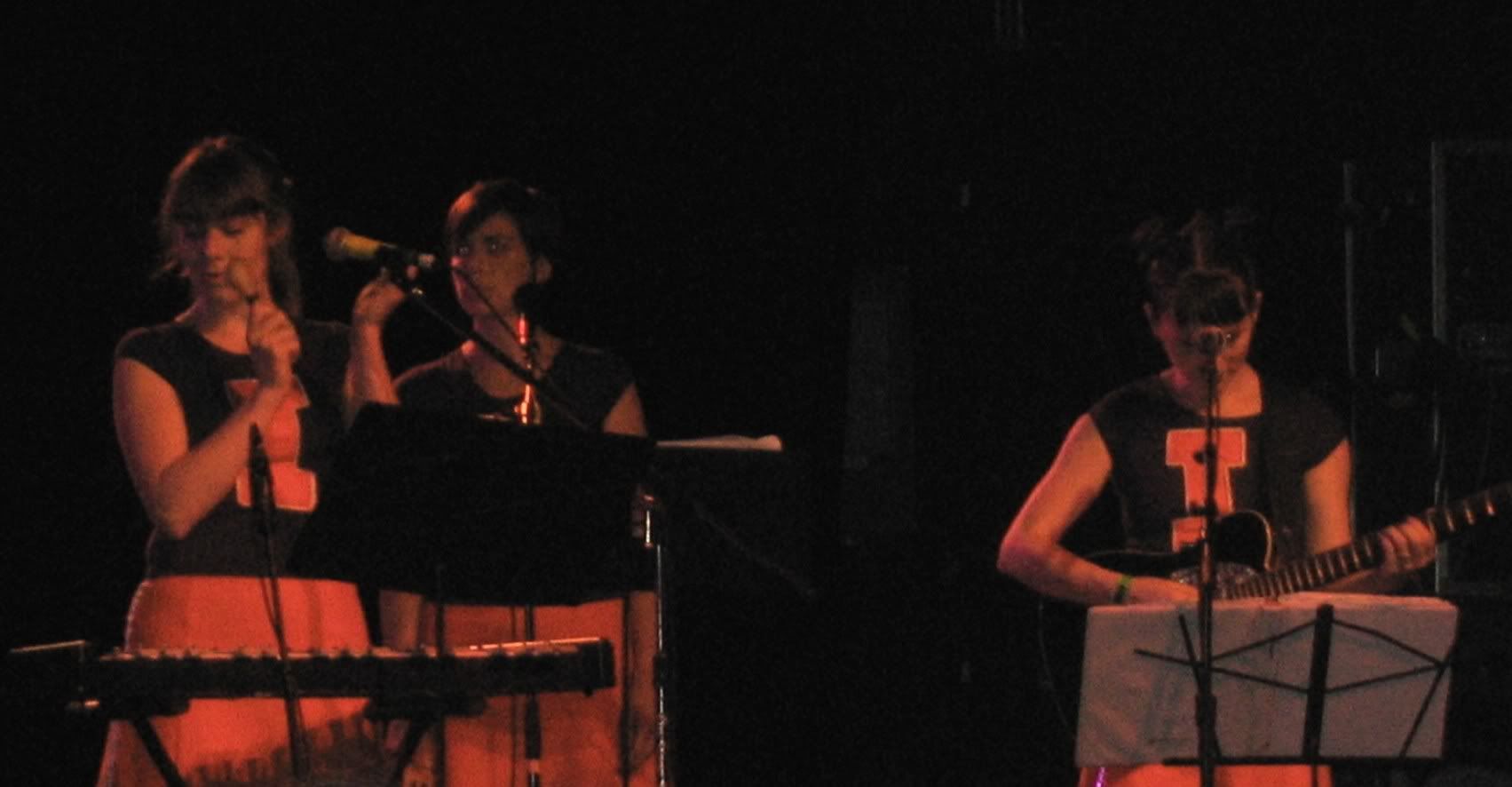 Liz Janes (a cutie) is in the middle.
Sufjan is really quite personable on stage. He didn't stray far from the new album, although he took a "detour" to Detroit to play Sister, from Seven Swans. He followed that (if memory serves) with John Wayne Gacy, one of my favorite tracks on the new album. The imagery of the song, combined with his vocals, really held the audience quite still. Again, I can't get past how his voice carries so well.
He broke the mellow mood in funny fashion: "We're going to lift your spirits. That part of the set reminds me of midseason, where we've lost about three games in a row. We're gonna win the next couple." He could have been a cheerleader in a previous life.

Sufjan gets down.
As you might guess, they played all the biggies off Illinois: Man of Metropolis, Jacksonville, Chicago (another fave), Casimir Pulaski Day. And, of course, Come On! Feel the Illinoise! — their "theme song."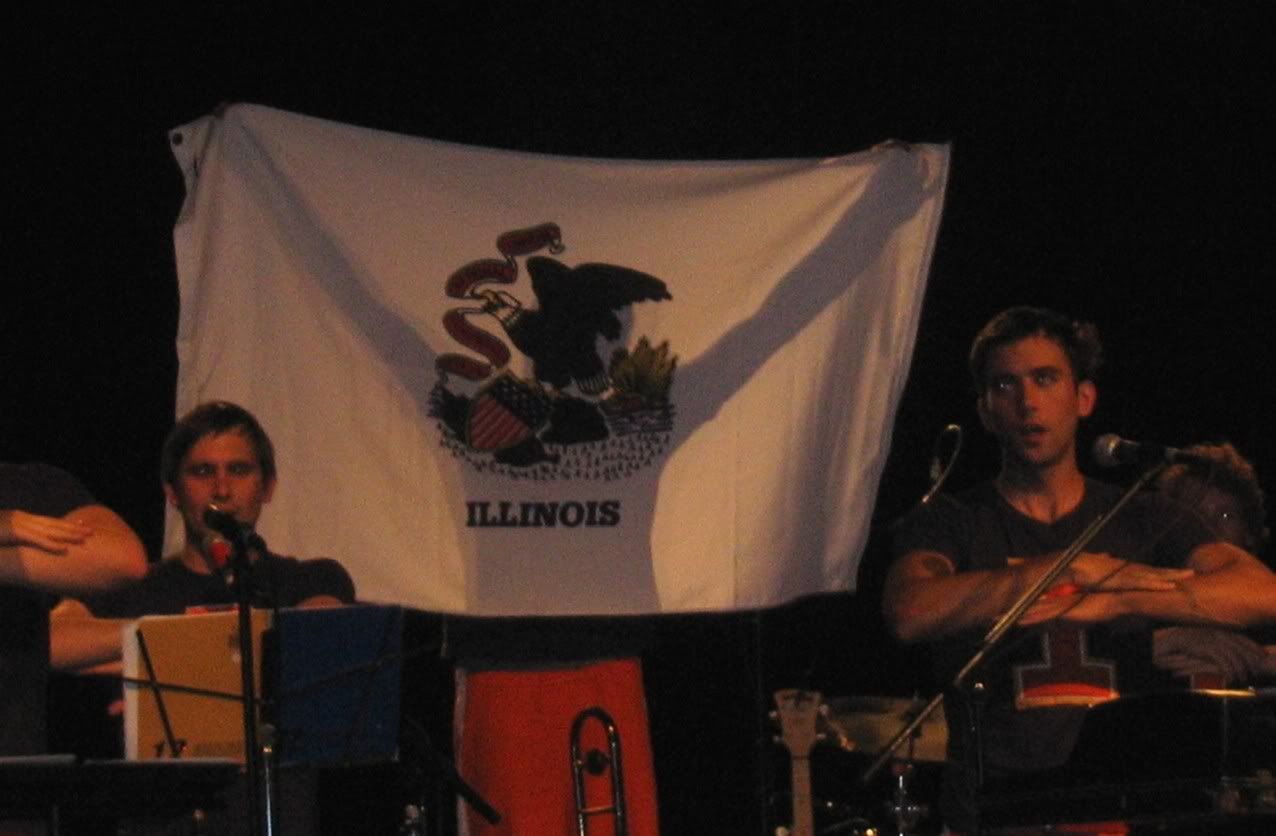 "I pledge allegiance … "
The encore included a cover (I guess you'd call it) of the Star-Spangled Banner: a folksy twist on our national anthem. The crowd ate it up. Sufjan seemed genuinely appreciative of the audience, saying he "feels like we're in a stadium. We feel like Bon Jovi."
I truly was impressed. Where so many times you plop down money to see someone sterilely strum through their catalog, this felt more like a show, a feast on the senses.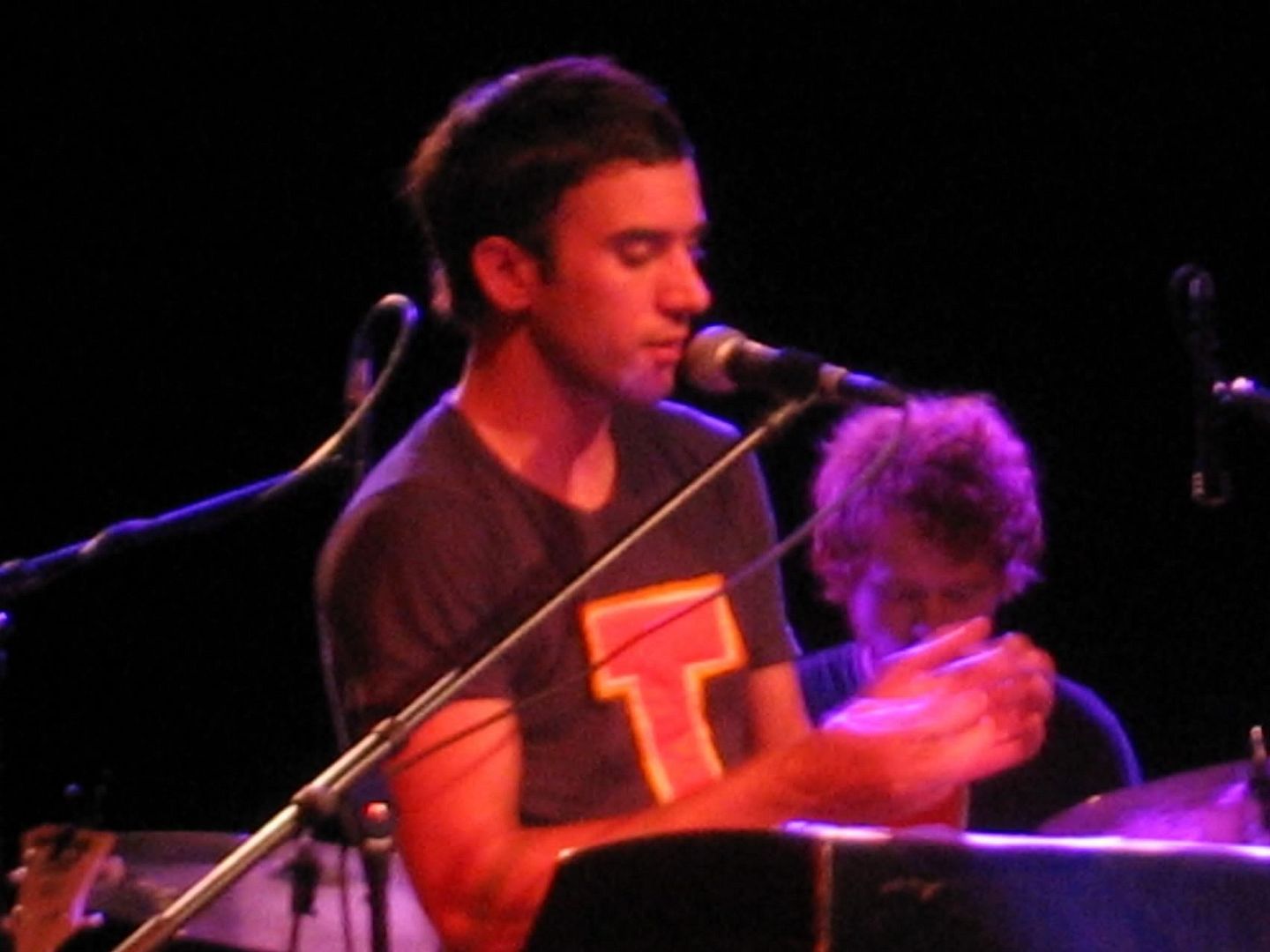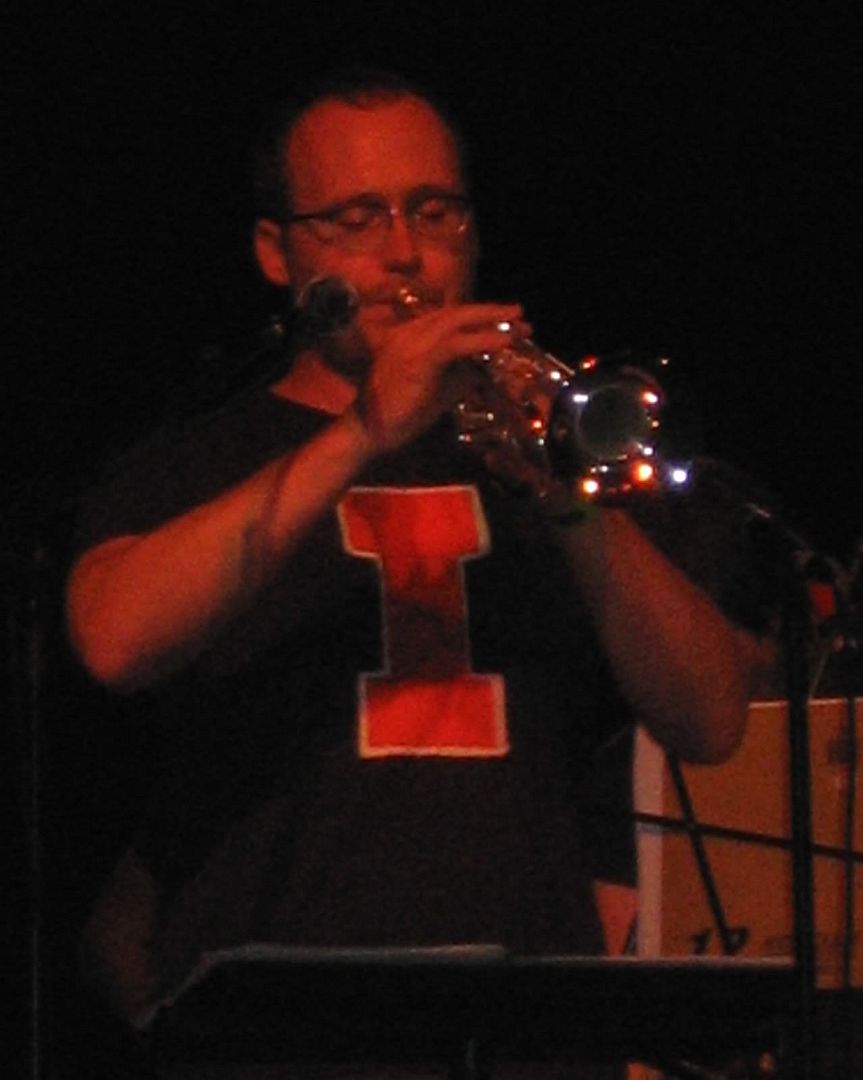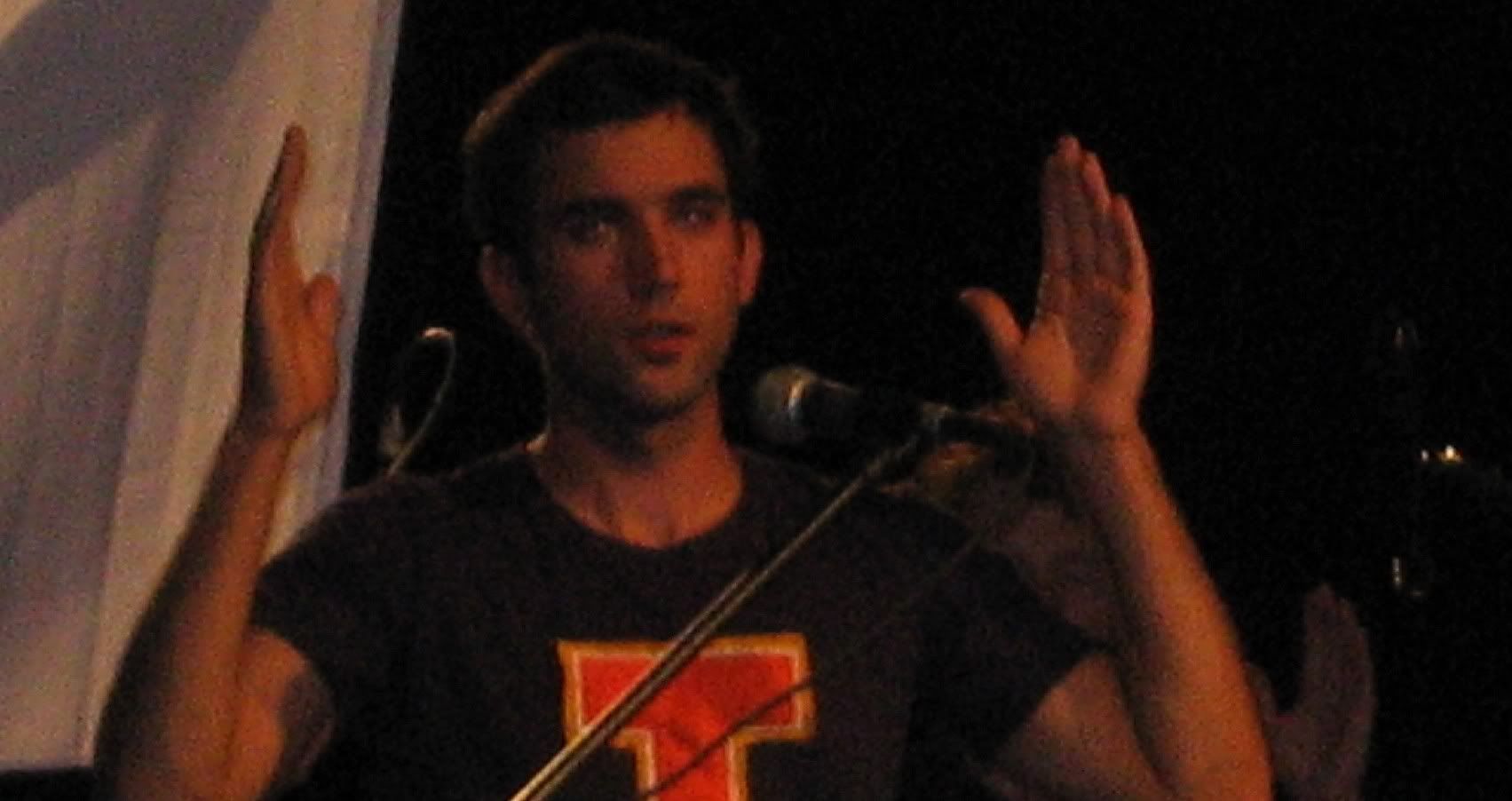 "I love your blog this much."
To cap it off, the Illinoisemakers attempted the human pyramid "for the first time ever."
Check it out:
1 2
Can't wait for that Arizona album …