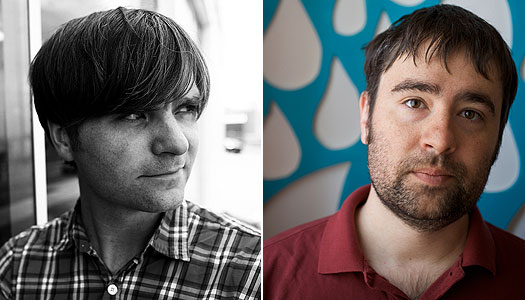 As soon as news broke of a reunion for the Postal Service, which includes a Coachella appearance, I had a hunch we might be getting an announcement for a Phoenix show.
That announcement happened today, and the show will happen April 18 at Comerica Theatre, via Stateside Presents. The live band will include Jenny Lewis (Jenny & Johnny, Rilo Kiley) and Laura Burhenn (Mynabirds, Bright Eyes).
Ten years after the release of their much-beloved debut album – their only album – Benjamin Gibbard and Jimmy Tamborello are getting back together to celebrate the (inevitable) deluxe reissue of Give Up, which will include 15 bonus tracks (two of them new) as a two-CD or three-LP package, out April 9 via Sub Pop.
It's a platinum-selling gem that will set new hearts aflutter and appeal to the nostalgics among us. In the 10 years since, the band's name – inspired by how Gibbard and Tamborello mailed CD-Rs to each other (stamps and all) to make the collaboration work – feels a touch antiquated, a snapshot of a time before file sharing became so easy. That sort of begs the question: Wouldn't a second album be much easier to create these days?
Regardless, I have been and will be revisiting Give Up in the days to come. I'm wondering, like I do with so many albums from my formative listening years: Is this a legitimate classic or an album that just captured specific emotions in a time and place that are really too foreign to relate to anymore?
In the time being, find ticket information at the Postal Service website. It appears GA tickets for the floor are $50 and are limited to four at a time.