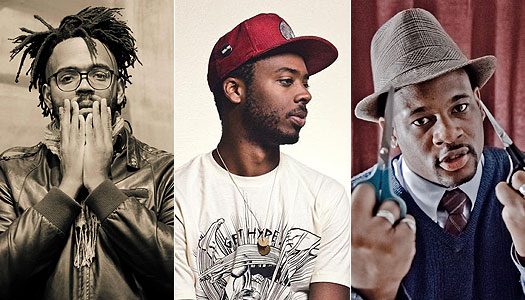 Three of Los Angeles' finest emcees at the forefront of the avant-rap scene – or whatever you wanna call it – are joining up for a fall tour that will stop at Rhythm Room on Oct. 24 (though at this point I'm not sure who is promoting it, so I have little in the way of ticket/age information).
Busdriver, Nocando and Open Mike Eagle are as prolific as they are talented, often showing up as guests on each other's work, so a collaborative tour makes sense.
In the case of Busdriver and Nocando, they released the album 10 Haters under the Flash Bang Grenada moniker last year. But all three have either released or will release solo material in 2012. Busdriver dropped Beaus$Eros in February; Open Mike Eagle released 4NML HSPTL this summer; and it looks like Nocando is close to unveiling a new album.
In conjunction with the tour announcement, Busdriver premiered a new video for the song "Utilitarian Uses of Love" over at Potholes In My Blog.
I've included some more treats below: