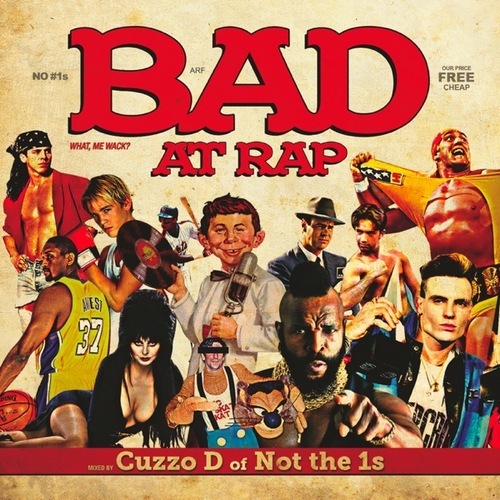 It takes a special type of dedication – a sick and twisted dedication – to seek out and collect bad rap for the past 25 years. Eric Steuer (aka Cuzzo D. of Not the 1s and also half of the great Meanest Man Contest) has done just that. There is no doubt plenty from which to choose.
Steuer has compiled a treasure/trash trove of some of the greatest worst raps you can imagine. It literally took everything in me to make it through Mr. T's "I Am Somebody." Not surprisingly, a few athletes show up on the mix (Darryl Strawberry and Ron Artest), but the real gem here might be Beach Boy Brian Wilson, who unbelievably tried his hand at rap with "Smart Girls" (produced by Matt Dike, no less). WFMU has the story on it here.
Says Steuer: "I've been collecting bad rap songs since I first heard Darryl Strawberry kick his endearingly wack verse on "Chocolate Strawberry" back in 1987. This mix is made up mostly of stuff from the late '80s and early '90s (the golden era of cynical, inept stabs at cashing in on hip-hop's popularity), although I threw in a couple of newer terrible raps at the end, to keep things fresh & current. I just started working on the second volume of this mix, and my fingers are crossed that Denny "Average Homeboy" Blaze will record a drop for it (he turned me down for this one)."
Bad rap never sounded so good.
Download and/or stream the mix over at Dublab. The track listing is below.
1. DC Talk – I Luv Rap Music
2. Outlaw Posse (f/ David Faustino) – Brand New Star
3. Icy Blu – It's Your Birthday
4. Mr. T – I Am Somebody
5. Darryl Strawberry – Chocolate Strawberry
6. Hulk Hogan and The Wrestling Boot Band – Beach Patrol
7. A to the D – The Renegade Jew
8. Dee Dee King (aka Dee Dee Ramone) – German Kid
9. Brian Wilson – Smart Girls
10. MC Skat Kat and the Stray Mob – I Ain't No Kitty
11. Vanilla Ice – Havin' a Roni
12. Biscuit – Biscuit's in the House
13. Elvira – Monsta' Rap
14. Dan Aykroyd and Tom Hanks – City of Crime
15. Surf MC's – Can't Get a Tan
16. 2 Bigg MC – High on Your Love
17. Joey Lawrence – I Like the Way (Kick da Smoove Groove)
18. Gerardo – My Name Is Not Rico
19. Aaron Carter – That's How I Beat Shaq
20. Ron Artest – Michael Michael
21. Kids Hit Masters – Crank That (Soulja Boy)