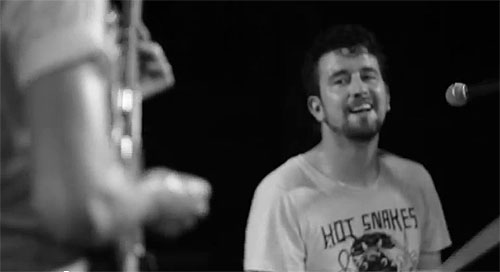 Sweaty shows. Thrashing fans. Grilling meats whilst shirtless. Drinking Jameson from the bottle. Yes, life for Japandroids is pretty much as I expected.
The new video for "The House That Heaven Built" will do nothing to dissuade our youth from chasing rock glory. Japandroids' music is all about capturing the moment – remember saying things like we'll sleep when we're dead? – and this clip (directed by Jim Larson) does just that, following Brian King and Dave Prowse on the road. It's all a blur, one big fucking party.
For a band that seems to be riding a Hold Steady-like ascent, this is the video that one of the year's best deserves – all epic and slow motion (everything is better in slow motion). But as the Vancouver duo embarks on four straight months of touring – FOUR MONTHS! – you have to wonder if the party will ever end.
Here's hoping they're still bringing it on Nov. 7, when they stop at Martini Ranch because nothing says punk quite like a show in Scottsdale, Ariz. Stateside Presents has all the info you need.
RELATED:
Japandroids, the Casbah (San Diego), 6/16/12
Japandroids: Heavenward Grand Prix
Japandroids: Younger Us
Japandroids on KCRW's Morning Becomes Eclectic