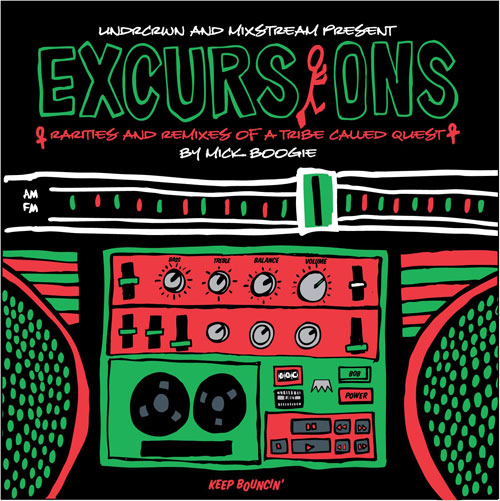 So it looks like Michael Rapaport's documentary, Beats, Rhymes & Life: The Travels of A Tribe Called Quest, is making its Valley premiere at Tempe Marketplace this Friday (thanks to Drew for the heads up).
I can't wait to see it, though it could be admittedly difficult to watch the movie peel back the layers to uncover the demise of my favorite group. Part of the idealist fanboy in me does not want to witness the bitter infighting.
If nothing else, the documentary appears to have revived interest in Tribe – hopefully even introducing the group to a younger generation (check out a post today on five songs sampled by Tribe at Phoenx New Times' Up on the Sun blog). As a tribute, Mick Boogie created Excursions, a mixtape of "all the rare songs, demos, limited-edition remixes, and collaborations you may have missed over the years." I've been lucky and persistent enough to collect a lot of these – whether on cassette, vinyl and/or CD. Sharing them was going to part of the goal for the Sundays with A Tribe Called Quest feature that I simply stopped doing. Perhaps it's time to pick it back up.
In the meantime, follow the link below to stream/download Mick Boogie's mixtape:
[ZIP]: Mick Boogie | Rarities and Remixes of A Tribe Called Quest
A tracklist isn't provided, but it's pretty easy to hunt one down. As I mine my Tribe collection, here's one of the tracks Mick Boogie used: