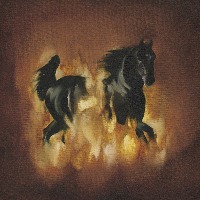 I have been waiting for a song of the year candidate to rear its head, fall in my lap, reach from my speakers and shake me. It's March, I know. I hate premature song/album of the year blather as much as you do. But perhaps you haven't heard Devastation by the Besnard Lakes.
Quite simply, it kills. Everything in its path. It appears on the group's LP, The Besnard Lakes Are the Dark Horse, which NPR says "demonstrates a remarkable flair for dramatic shifts between initial fragility and walloping dynamics." NPR forgot to mention the album cover art: a black stallion engulfed in flames! I think if I spent a lot of time at coffeehouses reading philosophy books I could attach a metaphorical meaning to this imagery. But I don't, so I can't. However, I will say this: It's a black stallion engulfed in flames! And I sort of want a poster of it, but it has to be made of that fuzzy, velvet-y fabric.
But back to Devastation. This is nearly six minutes of major ambition, a juxtaposition in sound of thick classic-rock riffs and modern, swirling synths. The group's Montreal home means obligatory comparisons to the Arcade Fire and the like. But I take more of a Low-ish vibe from the album – spacious sounds and distant vocals; maybe something closer to Pink Floyd (though I claim to be no expert on Floyd).
Judge for yourself: You can stream Are the Dark Horse at Jagjaguwar. Also, the Besnard Lakes are at the Paper Heart in Phoenix on March 19 with Dirty on Purpose.
If somehow they could incorporate a real, live stallion galloping through flames at the venue, I might just follow them around the country.
The Besnard Lakes | Devastation
The Besnard Lakes Are the Dark Horse is available at eMusic.