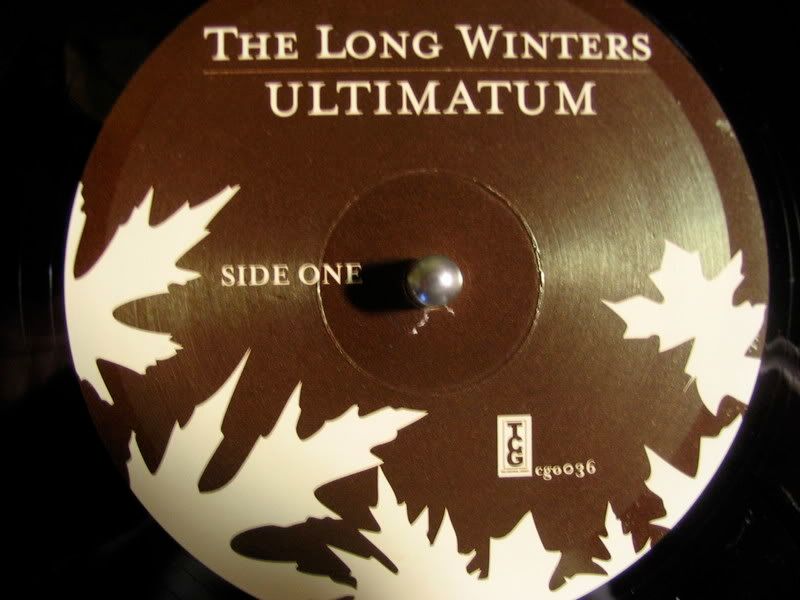 Indie labels are making it so that buying vinyl is more enticing than ever. Whether it's a download coupon for mp3s of an album or adding bonus tracks, they seem to be hedging their bets that maybe, just maybe, fans will be lured by owning a tangible piece of music.
The fine folks at Barsuk drew me in when I saw the Long Winters catalog available on vinyl at Stinkweeds in Phoenix. Not only is John Roderick's 2005 Ultimatum EP released on beautiful 140-gram vinyl, it also includes five bonus tracks. The record also comes covered in a thick paper cover with lyrics printed on it.
The four bonus tracks: Fire Island, AK (susitna demo); (It's a) Departure (version 1.0); Clouds (home demo); Seven (litho demo).
One day, if I move and have to pack and lug records around, I may regret my growing vinyl collection, if only for a short while (or when I throw out my back lifting it all). But music as rich as Roderick's deserves the 33 1/3 treatment. And I'm telling you, this 140-gram vinyl is so sturdy you could eat a steak off it.
And these demos are especially fulfilling because I've been still wholly absorbed in Putting the Days to Bed, so it's neat to hear more skeleton versions of the polished tracks.
Buy Ultimatum EP on vinyl for $15. Check out the entire catalog for the Long Winters.
The Long Winters | Clouds (home demo)