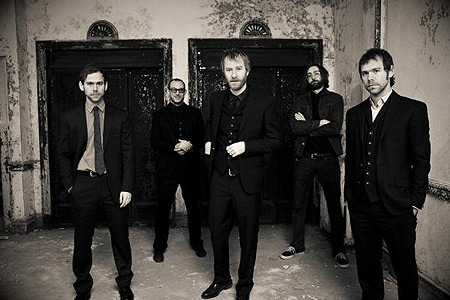 We trekked to Los Angeles this past weekend to see the National at Hollywood Bowl, and it was easy to get the sense we witnessed a True Moment – a stunning realization of a band's ascent. Is it possible the group that was playing the smallish Modified Arts in Phoenix six years ago was now nearly filling an 18,000-capacity amphitheater? That's basically the size of a basketball arena, and when I think of it like that I still can't wrap my head around it. (I caught myself several times turning around to try to grasp just how many people were there.)
Surely in the seven or so times I've seen the National I've had more intimate experiences, like, say, last fall at Marquee Theatre in Tempe when singer Matt Berninger's mic cord nearly clotheslined me as he took "Terrible Love" through the audience. At Hollywood Bowl, we sat somewhere in the middle (section K), and while the band felt far away (I spent a lot of time watching the video screen) the show was still riveting.
Berninger appears more comfortable on stage – he sort of has to be at this point – but there's still a bit of an anxious edge to him. And the Bowl setlist, about 80 minutes long, played into his hands. While it drew heavy from High Violet (with guest help from Annie Clark, aka St. Vincent), they snuck in older tracks, including "Available" and "Cardinal Song" (I can't recall ever seeing them play anything off 2003's Sad Songs For Dirty Lovers).
The show ended with "About Today," a song off the 2004 Cherry Tree EP that has been revived as a featured song in the movie Warrior. It was a beautiful (if somber) ending to a perfect night, and thanks to the National's old label, Brassland, you can download the track for free at Bandcamp.
Here is one of the trailers for Warrior, featuring "About Today":