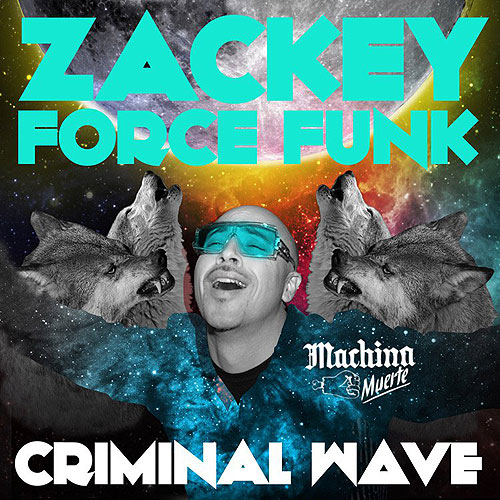 From where I'm sitting, Tucson is roughly 110 miles away. But Zackey Force Funk's Criminal Wave may as well come from some far-off place where wolves do howl at galaxies unknown (that is, by the way, an early favorite for album cover of the year).
The latest offering from the Machina Muerte crew is a 16-minute mind-bending trip of futuristic funk and electro beats that draws on inspirations from ZFF's unique bicoastal upbringing. No song on the nine-track Criminal Wave is longer than two-and-a-half minutes, but the jams linger – a style that's a proud descendent of the funk family tree, from Roger Troutman to Arabian Prince.
Released on May 10 under its original name, Minimal Wave, Zackey Force Funk not only changed the name of the album but also the cover art: "Switching the album title from 'Minimal Wave' to 'Criminal Wave' to avoid electro shock. Expect to see the switch over digitally shortly." I'll take Criminal Wave over chillwave any day.
Check out "Tucson Push," an ode to the Old Pueblo's drug culture.
Zackey Force Funk – Tucson Push by somuchsilence
Zackey Force Funk also helped soundtrack the music to this live clip of the Machina Muerte crew performing at the Paid Dues Festival. Peep it: