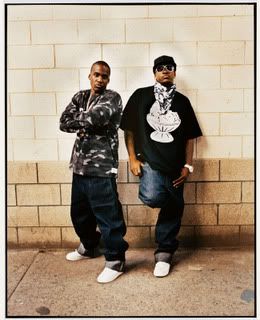 Clipse
is hittin' the road in support of
Hell Hath No Fury
, a year-end favorite of many bloggers. It probably would have been one of mine if it weren't released so late in the year.
Nevertheless, the tour includes a March 18 stop in Phoenix/Tempe at the Clubhouse that happens to coincide with another great show that same night: Jonah Matranga, Joshua English and Frank Turner at Modified.
UPDATE: Tour dates have been revised and no Phoenix date is included; now that's more like it. Sigh.
All Clipse dates after the jump:

FEBRUARY 27 MIDDLE EAST CAMBRIDGE, MA
FEBRUARY 28 SONAR BALTIMORE, MD
MARCH 1 REX THEATRE PITTSBURGH, PA 15203
MARCH 2 METRO CHICAGO, IL 606613
MARCH 4 BLIND PIG ANN ARBOR, MI
MARCH 7 BOULDER THEATER BOULDER, CO
MARCH 8 BLACK SHEEP COLORADO SPRINGS, CO
MARCH 9 HARRY O'S PARK CITY, UT
MARCH 10 MANGY MOOSE TETON VILLAGE, WY
MARCH 12 CHOP SUEY SEATTLE, WA
MARCH 14 MEZZANINE SF, CA
MARCH 15 THE AGENDA SAN JOSE , CA
MARCH 16 EL REY THEATRE LOS ANGELES, CA
MARCH 17 BELLY UP TAVERN SOLANA BEACH, CA
MARCH 18 HOUSE OF BLUES ANAHEIM, CA
MARCH 21 EMO'S AUSTIN , TX
MARCH 24 THE CLUB @ FIRESTONE ORLANDO, FL
MARCH 27 BIJOU THEATRE KNOXVILLE, TN
MARCH 28 THE ORANGE PEEL ASHVILLE, NC
MARCH 29 CATS CRADLE CARRBORO , NC