The 12th installment of I Used to Love H.E.R., a series in which artists/bloggers/writers discuss their most essential or favorite hip-hop albums (read intro) is a fantastic breakdown by Dale W. Miller, drummer for Palomar, on a straight-up classic. Palomar released All Things, Forests (on Misra) last month to heady reviews (7.4 at Pitchfork among them). Miller takes on this album from the viewpoint as a fan but also puts it into a context of its effect on him as a musician.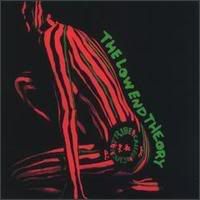 A Tribe Called Quest
The Low End Theory (Jive, 1991)
It was only when a friend of mine started playing Public Enemy's "It Takes a Nation.." as his hardcore band's intro at shows that I first tasted true hip-hop. Inspiring lyrics with groundbreaking production really set P.E. apart from so many old school & commercial rap acts of the time. Their raw energy really grabbed me the same way so many hardcore and punk bands did, but it was ultimately that same aggression that later wore on me in both genres. You see, long after discovering P.E. I started to turn into the person I am today, and the teen angst that had fueled my love for hardcore and P.E was fading away.
It all happened at once. I was in college at the time broadening my scope on music listening & studying the likes of Miles Davis's "The Complete Concert 1964 My Funny Valentine and Four & More" and the Tribe's "Low End Theory" fell in my lap, literally. My roommate recently bought "Low End" and when he read the credits stating Ron Carter was on the bass on some tracks he immediately brought it in my room knowing my love of his playing on Mile's records.
Though not performed by Carter, the opening bass line of "Excursions" immediately drew me in. Like jazz, it had a heaviness that filled the speakers without anger, just power. Even within the first few lyric lines, Q-tip drew that same connection I was seeing between jazz & rap; "You could find the abstract listening to hip hop, My pops used to say, it reminded him of be-bop". I knew right then I was on to something.
Q-tip's delivery was extremely laid back, yet his vibe was coming through strong. Lyrics such as "I am a bona-fide, Not too modest and not a lot of pride, Soon to have a ride and a home to reside, If my momma is sick I'm by her bedside", shows he had quite a mature outlook at such a young age yet still managed to keep it fresh. His co-MC Phife Dawg was a bit more energetic, but never stepped over the tone that was set from both the music and Q-tip. Phife's lyrics showed his age a bit more by speaking of all the girls that he "Used ta love 'em, leave 'em, skeeze 'em, tease 'em", but you still never felt like you were hanging at a frat party.
"Beats that are hard, beats that are funky, It could get you hooked like a crackhead junkie". This album paved the way not only for Guru's obviously jazz influenced 1993 record "Jazzmatazz Volume 1", in which he had the entire Blue Note catalog at his disposal, but it also set the tone for the entire genre of trip-hop that was to follow a few years later in Europe. Even the collaboration between the Antipop Consortium and avant jazz pianist Matthew Shipp on their 2003 album shows obvious influence from "Low End Theory". I personally remember spending countless hours repeating those footy kick drum patterns from "Low End" over and over again until I got them to swing.
The jazz flavored upright bass and hypnotic drum patterns were the key to this whole record. But as the album ends, Tribe decided to make an immediate left turn, letting you know there is still a good time to be had. "Scenario" was the hit off the album and the theme song to many people's house parties that fall. Though the album dates itself a bit by talking about the obsolete usage of pagers and what "Bo Knows", the overall production and message continue to be relevant today.
A Tribe Called Quest | Excursions
BONUS:
A Tribe Called Quest | Scenario (Young Nation Mix)