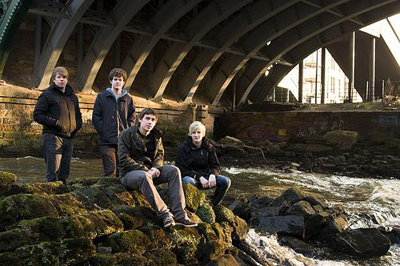 Stateside Presents has unleashed a whole batch of upcoming shows, already filling up that 2010 calendar I don't own yet.
Other than the St. Vincent show on Feb. 11, I'm most anticipating the Phoenix debut of young Scottish foursome We Were Promised Jetpacks on Feb. 23 at Rhythm Room. (Bear Hands opens the show.)
WWPJ put on quite a (loud) show when we saw the band in Tucson in September as the opener for The Twilight Sad and Frightened Rabbit on the Fat Cat world domination tour. Now with a little seasoning as a touring act, it'll be interesting to see how WWPJ plays on this second U.S. leg. There definitely was a tense/raw edge in Tucson – similar to what you'd hear on the debut full-length These Four Walls – that I hope hasn't faded.
(Photo credit: Neil Thomas Douglas)

Here's a video snippet I took of the band performing It's Thunder and It's Lightning in Tucson: