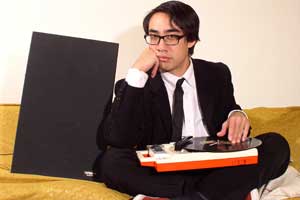 When future lifeforms sit and analyze the hip-hop songs we have left them – and, please, they totally will – they may wonder why so many songs are titled Body Rock. It will be a valid question, and one nobody can answer, other than to say that in hip-hop vernacular "body rock" just sounds inherent to the culture, a phrase that no doubt sprang from B-boys and B-girls. (And hopefully not this movie. Lorenzo Lamas as breakdancer Chilly D? WTF?)
in any case, we're adding a track to the list – and a stellar one at that. Bay Area deejay Mike Relm drops his first single from his forthcoming debut album of original material (title and release date TBD). Relm is incredibly versatile, nearing the end of a 62-date tour with the Blue Man Group before appearances at Coachella and Rock the Bells (a lineup that has me drooling).
He's also taking taking this art of scratching/mixing to some next-level style by incorporating video in his show. Check this out – and press rewind if he hasn't blown your mind! (I personally love the Charlie Brown mix.)
Like most great deejays, Relm is making a name by hooking up with respected artists for tours (Del the Funky Homosapien, for example) and remixes (Dr. Octagon, to name just one). And he seems to have branded a clever keyboard logo – oo~ – that looks like his pair of glasses. Smart guy.
So check Body Rock, an up-tempo number (with Blackalicious' Gift of Gab) truly deserving of the name – organized chaos on the top levels all underpinned by a nice, almost hidden, bass line.
AT CIRCA 45: A Beastie Boys B-side, She's On It.