Kevin's internet service is currently down. Although I secretly think this is a ploy to get me to post, I'm stepping up again. Oh my.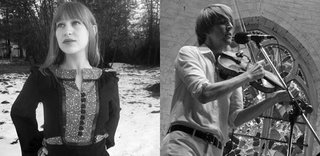 Just going to do a quick spotlight on a jam in heavy rotation in my car/ipod/work right now and the dilemma I face on which version I prefer. Current alt-folk (or whatever) nymph, Joanna Newsom delivers a delicate rawness with it. Then Owen Pallett, under his Final Fantasy moniker, strings it up all hauntingly. Here are both versions of
Peach, Plum, Pear
. Let me know your thoughts.
Joanna Newsom | Peach, Plum, Pear
Final Fantasy | Peach, Plum, Pear