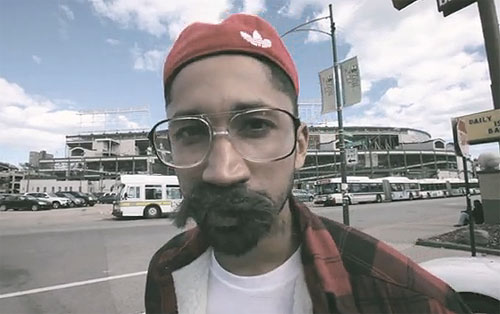 I'm a long-suffering Cubs fan – there is no other kind – and I can still remember watching Game 6 of the 2003 National League Championship Series, the surreal feeling that my Cubbies were (repeat after me)
five outs away
from going to the World Series and then the utter despair when it all unraveled after some guy named Steve Bartman inserted his name into their miserable history.
Or maybe it wasn't Bartman. Did the hand of fate that reached into the sky and interfere with that foul ball with one out in the top of the eighth inning come from Kenny Dennis? Almost nine years later, Serengeti's alter ego has come clean in "Don't Blame Steve," a track off the new Kenny Dennis EP.
We've already seen Chicago superfan Kenny Dennis dis Shaq, but here he's taking on 100-plus years of futility. Leave Bartman alone. Dennis instead points the finger at a long list of former players that will make Cubs fans both nostalgic and nauseated (and it shows Serengeti's encyclopedic knowledge of Cubs lore): "Blame Assenmacher, blame Jeff Pico, blame Damon Berryhill, blame Lloyd McClendon … "
I've never been one to blame Bartman (the Cubs still could have won Game 7), but the controversy will live on forever, and the irrational vitriol was documented nicely in Catching Hell, part of ESPN's 30 for 30 series. Time (and perhaps a World Series title for the Cubs) will heal Bartman's wounds, in the same way the relationship between Bill Buckner and Red Sox fans was eventually repaired. And like the Baseball Project revisiting history in their sympathetic song "Buckner's Bolero," Serengeti is equally forgiving of Bartman.
Maybe Kenny Dennis' mustache is to blame. We'll never know.