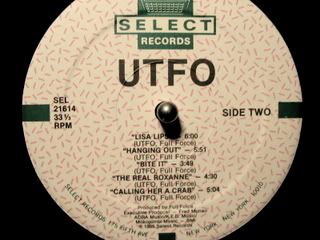 While I'm on the subject of RJD2, I forgot to mention his appearance in the "getting to know" section of the latest issue of Filter magazine (Winter '07).
This section typically includes a neat feature: "3 albums that inspired (artist) to make music." Well, RJ's selections stood out: Pharcyde's Bizarre Ride II the Pharcyde; D'Angelo's Voodoo and UTFO's self-titled debut. Pharcyde seems like maybe a no-brainer – that album is unreal. His choice of UTFO made me perk up, especially because I found that album on vinyl for $2 at Bookmans, a local used book/record store; definitely one of my better finds.
That said, I had to go dust it off and give it a whirl. It was released in 1985 on Select Records. That debut is best known now for the single Roxanne, Roxanne, a dis track about a (presumably) fictional girl who tells them, basically, to talk to the hand. That one song spawned answer records, including Roxanne Shante's Roxanne's Revenge.
That whole phenomenon deserves a week's worth of posts. In listening to the record, though, the track I love is Hanging Out, a song about, yep, hanging out. And that simplicity – in the lyrics, the beats, in the cheesy synth lines – sums up what's so great about rap of that era. What else would you expect from guys named the Kangol Kid, Doctor Ice, the Educated Rapper and Mix Master Ice?
As for RJD2, he tells Filter that album "started my fascination with rap."
Ripped from vinyl, a great track to start your weekend.