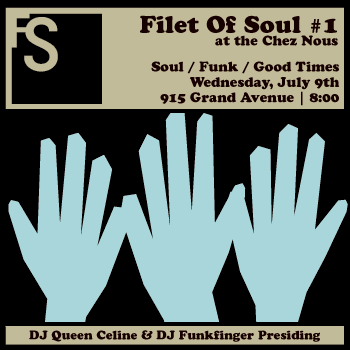 My pals Jay (aka DJ Funkfinger) and Celine (Queen Celine) are putting on the first of what I hope to be many successful soul nights at Chez Nous in Phoenix. As you can tell by the blinking gif there, the night is called Filet of Soul.
Jay has kindly asked me to contribute some tunes – 45 minutes' worth – and my wife (bless her) won't let me get out of this. Eeek! As I'm not a DJ nor do I pretend to be, I'm a little nervous about showing how I can't mix or match beats. To think, I usually mock those kinds of DJs!
Ah well. If anything, I'm going in there with a theme: I'm going to play soul songs that have been sampled by recognizable hip-hop songs. Maybe not all that original, but it's what I know.
So who out there has some suggestions for me? I've got a pretty decent list compiled so far. I'll be using Jay's Serato set-up – what? I never ripped on DJs who mix only mp3s … honest – though I wish I could do it on all 45s.
No matter. Here's one of the tracks I'll be playing.
Ike Turner and the Kings of Rhythm | Getting Nasty
As sampled on:
Jurassic 5 | Concrete Schoolyard