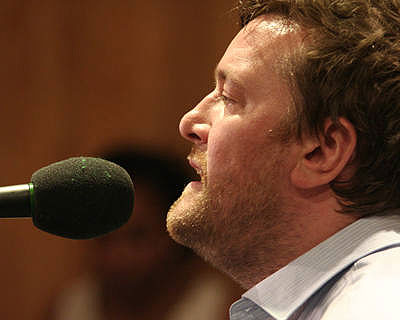 Elbow's been all over since releasing its latest (and fantastic) album The Seldom Seen Kid.
The band's latest promo stop was on BBC's Radio 1 Live Lounge, where they performed (with a string trio) two songs, including a cover of Amy Winehouse's Back to Black. It's a very sympathetic and endearing cover.
Clearly, Winehouse has the band's respect if singer Guy Garvey's introduction to the cover is any indication: "This song probably defines last couple years in British music. Also, it's an opportunity to say the artist is someone who's in the press an awful lot. And I think you should only go on your experience of people. Having met her a few times, I just know her to be a a very sweet girl who works very, very hard."
Elbow | Back to Black (Amy Winehouse cover on Radio 1 Live Lounge)
Elbow | One Day Like This (on Radio 1 Live Lounge)
Related:
More Elbow posts on this site (there are too many to list individually).